Mendip quarry history | Quarrying for building stone | Quarrying for early lime-burning | Quarrying for aggregate
Quarrying for building stone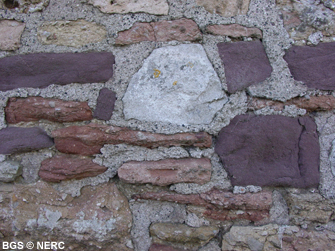 Stone was used for building in two main forms: directly as in walling and, in the case of limestone, by burning to produce lime.
The lower altitude and generally more wooded nature of eastern Mendip with its mixed and often well-developed soils, means that dry-stone field walls, although relatively common, do not dominate the landscape as they do in the higher west Mendip.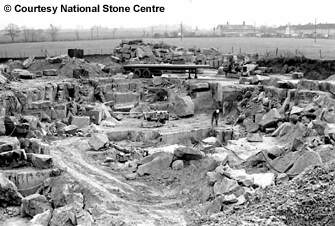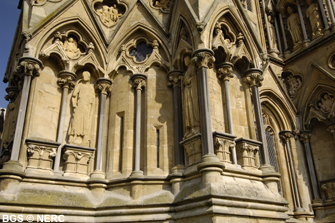 Any hard stone tended to be used for local construction, but builders often preferred certain types of stone for particular functions. The choice of stone reflected its ease of working, ability to withstand weathering, and changing fashions in building styles. Even in the heart of hard Carboniferous Limestone country, most village churches have ornately decorated towers of Doulting Stone or other Jurassic oolites. The most mundane farm building often used roughly worked Carboniferous Limestone for the main walls, but the surrounds for windows and doors, and wall ends are of the much more easily worked Doulting limestone capable of producing a fine edge (arris). Local traditional roofs were mainly of thatch or baked clay tile (pantile or plain tile). Unlike other areas such as the Cotswolds or Pennines, limestone and sandstone have not been widely used as a roofing material.
There was thus little incentive to establish large quarries as stone of a sort could be obtained from more or less anywhere, except for the specialist Doulting Stone.