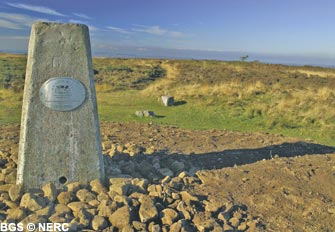 Blackdown is the highest point in the Mendips, rising to 325 m. The summit is underlain by sandstone and conglomerate of the Portishead Formation, which outcrops in the core of the Blackdown Pericline. The hard sandstone forms the higher ground because it is immune from dissolution and resistant to erosion, and gives rise to acidic, wet, often peaty soils. The curious hummocks, tumps and straight lines on the summit are the remains of a World War II bombing decoy. They were designed to draw enemy bombs by mimicking potential targets in Bristol such as railway stations and marshalling yards.
Flora and fauna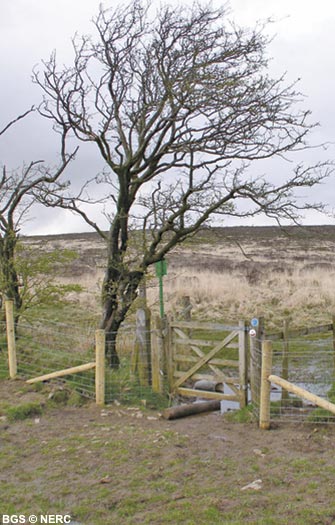 The acidic soils on the sandstone support dwarf shrub heath, dominated by mature heather and typical heathland grasses. A few small mires are also present, providing suitably wet and acidic conditions for sphagnum mosses and a host of other wetland plants. Dense bracken has become established on the northern side of the hill. The area supports many heathland insects and birds, many of them nationally rare and/or declining.
On the south side of Blackdown, the GB Gruffy Field Nature Reserve contains several different habitats including damp, species-rich neutral-acidic pasture, rocky limestone crags, unimproved limestone pasture and lead-rich spoil heaps, the latter supporting the nationally scarce alpine penny-cress. This gives rise to a wide variety of plant and animal species.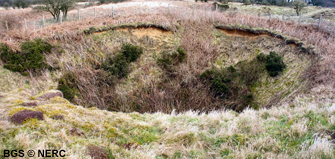 Caves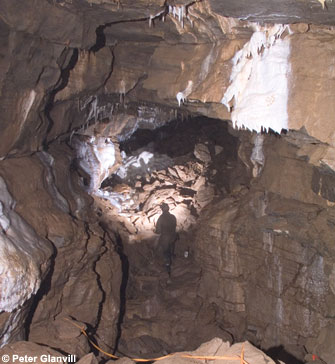 Several small streams drain off the sandstone on the south side of the hill, and across the Avon Group mudstone outcrop before disappearing underground on reaching the Black Rock Limestone. Two stream sink underground in the GB Gruffy Field Nature Reserve. The larger stream reappears in GB Cave. Accessible only to cavers, this cave is almost 2 km long and descends to a depth of 135 m. The main passage includes one of the largest chambers in any Mendip cave with many superb stalactites and stalagmites.
The other stream sinks nearby and flows into Charterhouse Cave. Discovered in 1984, this cave was recently extended in 2008-2011 to over 4.8 km and 228 m depth. The present end of the cave is close to Bone Hole in Cheddar Gorge. The stream from GB Cave flows into the Charterhouse Cave stream part way along the new extensions.
The region is also pockmarked with old mine shafts and spoil tips forming 'gruffy ground'. A large, fenced depression marks the site of a major sinkhole that collapsed following heavy rain in 1968. The sides of the depression are formed of fine-grained wind-blown sandy loess, which covers much of the reserve.