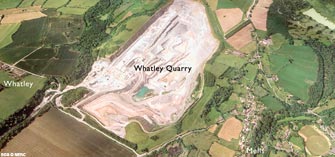 Whatley is a small village approximately three kilometres west of Frome, sitting on the ridge between the Fordbury and Nunney valleys. The ridge is capped by Jurassic Fuller's Earth Formation and Inferior Oolite, which overlie the older Carboniferous and Devonian rocks. These older rocks are exposed in both the Nunney valley and Whatley Bottom. Here, the steeply dipping Carboniferous Black Rock Limestone is well exposed just north of the village where the road passes through a cutting. This was where in 1867, the geologist Charles Moore recorded a thin bed of fossiliferous Charmouth Mudstone sandwiched between the Carboniferous Limestone and the overlying Inferior Oolite.
Quarrying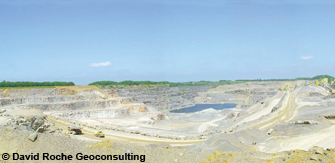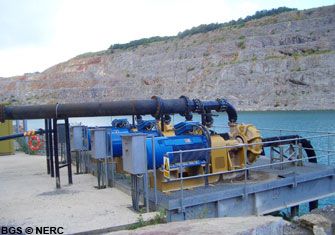 Whatley is perhaps better known for the local quarry. Whatley Quarry is one of the two 'super quarries' on east Mendip and is located in the belt of steeply dipping Carboniferous Limestone on the northern limb of the Beacon Hill Pericline. Operated by Hanson Aggregates, it produces a large range of materials for the building and construction industries. The company employs about 100 full time staff at the quarry and a similar number of contract hauliers. Whatley is a working quarry, so access is only by prior arrangement.
The quarry extracts rock from almost all of the Carboniferous Limestone sequence which here dips at around 65º–80º to the north. The base of the quarry is currently below the natural water table. Groundwater leaking into the quarry is used to clean the aggregate before being recycled and discharged locally into the Whatley Brook or pumped into the River Mells to help maintain river flow.
Up to 25 million litres per day in the winter months and 15 million litres per day in the summer have to be pumped out. Intensive monitoring suggests there has been very little impact locally on groundwater resources from the de-watering of the limestone aquifer.
Iron works
Near Chantry village are two of the six iron works operated by the Fussell family, who also owned the iron works at Mells. The Chantry Iron Works were located just downstream of Chantry Pond with the Railford Iron Works further downstream near Railford bridge.