If you are interested in going caving, one of the best ways of starting is by joining a local caving club or contacting the British Caving Association (BCA). They have the benefit of experienced members, and may be able to provide equipment, training, permits and access to local caves, as well organising trips and expeditions. There are numerous clubs based on or around the Mendip Hills. Many of the larger clubs offer accommodation in huts on or close to Mendip; these are listed below.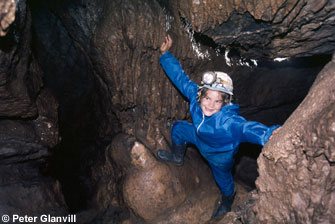 Alternatively, you can go on an 'Adventure Caving' expedition at Cheddar Caves specifically designed for novices, or book up a trip with a recognised caving
instructor.
See lists of qualified caving instructors
.
Major Mendip caving clubs with accommodation.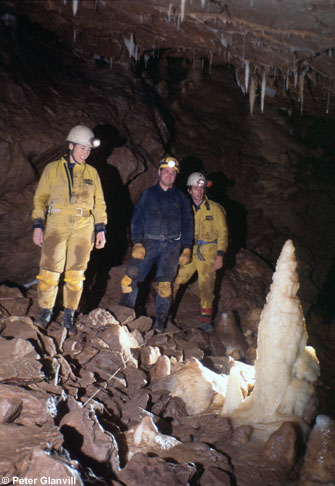 Bristol Exploration Club The Belfry, Wells Road, Priddy, Wells. [ST 5420 5047]. Hut: (01749) 672126
Cerberus Spelaeological Society Larkshall, Fosse Road, Oakhill, Somerset, BA3 5HZ [ST 6505 4720]. Hut: (01749) 841072
Mendip Caving Group Nordrach Cottage, Nordrach, Blagdon, Bristol, BS18 6XW [ST 5150 5605]. Hut: (01761) 462797
Mendip Nature Research Committee Research Station, Wells Hill Bottom, Green Ore, Wells, Somerset. [ST 5895 4935] Hut: (01761) 241609
Shepton Mallet Caving Club The Mineries, Wells Road, Priddy, Wells, Somerset, BA5 3AU. [ST 5435 5035]
Wessex Cave Club Upper Pitts, Eastwater Lane, Priddy, Wells, Somerset, BA5 3AX. [ST 5367 5092] Hut: (01749) 672310.
University of Bristol Spelaeological Society The Union, Queens Rd, Bristol, BS8 (hut in Burrington Combe).
For access arrangements contact the Council of Southern Caving Clubs (CSCC).
This is an association of caving clubs whose main interests lie in the Mendip Hills. Membership is made up of over 40 clubs based all over the southern part of the country and although the council is mainly concerned with Mendip, it is the Regional Body for southern England, and is a constituent member of the British Caving Association (BCA).