Beacon Hill is the highest point on eastern Mendip, and forms a broad north-west-trending ridge which marks the axis of the Beacon Hill Pericline. The Devonian Portishead Formation and older Silurian volcanic rocks (Coalbrookdale Formation) outcrop in the core of the pericline, with the Carboniferous Limestone flanking both sides, although in places the limestone is buried beneath younger rocks.
At the top of Beacon Hill is a narrow strip of woodland managed by the Woodland Trust in which are a few small outcrops of the Portishead Formation. South of the wood, there is a prominent break of slope, which marks the margin of the Lower Jurassic Downside Stone outcrop. This younger rock is draped over the older Carboniferous and Devonian rocks, and forms a gently sloping plateau between here and Shepton Mallet. To the east, the Silurian Coalbrookdale Formation volcanic rocks outcrop along the ridge. They consist of andesite and rhyodacite lavas, tuffs (consolidated volcanic ash) and agglomerate (volcanic conglomerate) sandwiched between ash-rich, fossiliferous siltstone and mudstone.
Fragments and pebbles of these rocks can be seen in ploughed fields and stone walls across the outcrop.
At the eastern end of the ridge near Downhead, an outcrop of the Cretaceous Upper Greensand Formation was recently discovered at Tadhill. This is the only known outcrop of Cretaceous rocks on the Mendips. Up to 8 m of glauconitic sand was proved in boreholes, resting unconformably on the Silurian volcanic rocks.
On the crest of the ridge lies Cranmore Tower, a folly built by local landowner Sir Richard Paget in 1863. The tower is not open to the public, but there is a good view across to the Cretaceous Upper Greensand escarpment and the conspicuous knoll of Cley Hill from the surrounding fields. Cley Hill is an outlier of Upper Cretaceous Chalk, with the main Chalk mass of Salisbury Plain beyond. To the north-east, the Westbury White Horse sits just east of the conspicuous chimney of the Westbury Cement Works.
Quarrying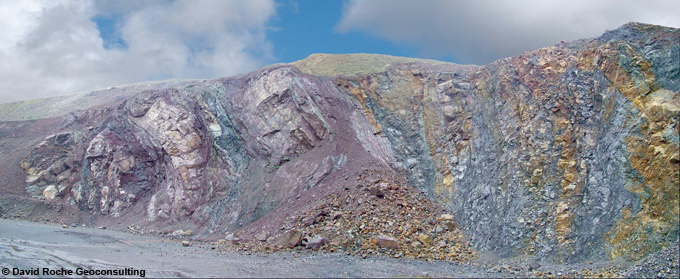 The Silurian volcanic rocks have been quarried at Moon's Hill Quarry, south of Stoke St Michael for over 120 years. This site comprises two clearly visible large pits situated on either side of the road. The two quarries are now operated as a single entity by John Wainwright & Co. Ltd.. It is a working quarry, so access is only by prior arrangement.
The volcanic rocks were also quarried just south of Tadhill at Downhead Quarry. Just over a kilometre south of Moon's Hill Quarry is the disused and now water filled Waterlip Quarry which worked the Carboniferous Black Rock Limestone. The rock was transported to the railway at Cranmore Station by a tramway, which also served Moon's Hill Quarry and Downhead Quarry, 3 km to the north-east.