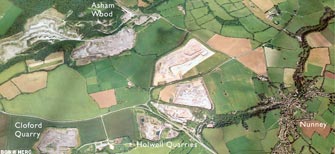 Holwell is a small village on the A361, south-west of Frome, situated in a narrow valley where the Nunney Brook has cut into the Carboniferous Limestone which here dips to the south at about 20° to 50°. It is renowned by palaeontologists for the discovery in 1867 of one of the world's earliest mammals.
Quarrying
The Carboniferous Limestone here has been quarried for over 150 years, creating a complex of active and abandoned quarries on either side of the A361. These quarries are important geological sites and have been designated as a Site of Special Scientific Interest.
The active quarries at Holwell are operated by Bardon Aggregates, a subsidiary of Aggregate Industries UK. The quarry comprises four pits clustered around the village, divided by roads. Three of these pits are connected by two tunnels. A fifth pit, known as Cloford Quarry, lies about 500 m to the south-west. A viewing platform has been built overlooking the northernmost pit.
Neptunian dykes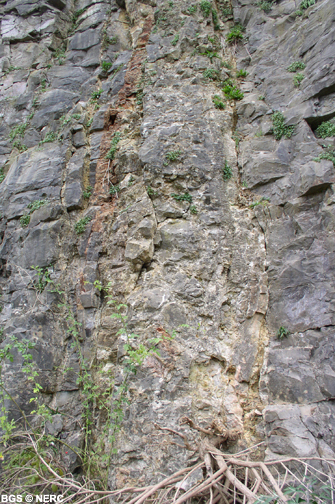 The Carboniferous Limestone here is cut by many vertical fissures known as 'Neptunian dykes' infilled with younger, Triassic and Jurassic sediment and lined with large calcite crystals. In one of these fissures the geologist Charles Moore discovered the teeth of one of the earliest known mammals, Haramiya in 1867.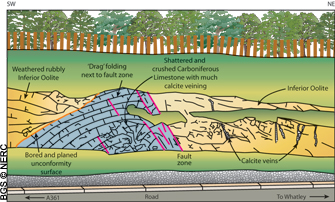 The fissure fills have also yielded vertebrate fossils of Late Triassic age as well as fragments of Jurassic reptiles and the dinosaurs Thecodontosaurus and Palaeosaurus. One of these fissures forms the edge of an old quarry just north of Holwell, although much of the infilling red and yellow-coloured sediment has now fallen to the quarry floor.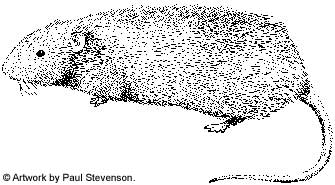 The overlying Inferior Oolite is exposed in a couple of roadside exposures, both of which show the unconformity with the underlying Carboniferous Limestone. One of these is in Holwell on the slip road towards Frome, the second in a shallow road cutting on the road towards Whatley. This shows a small, fault bounded knoll of Black Rock Limestone overlain by the golden yellow Inferior Oolite.
Nunney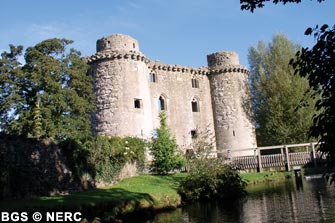 In the centre of Nunney are the impressive remains of Nunney Castle, built at the end of the 14th century by Sir Elias de la Mere. It was besieged by Cromwell's troops during the Civil War and was dismantled in 1654. The castle, owned by English Heritage, is constructed from the Inferior Oolite and the Great Oolite 'Bath Stone', and is open to the public.
Several boulders of silicified sandstone known as 'sarsen' stones occur in a wall near the castle. These boulders, of Tertiary age, are the remnants of an outcrop that was once more extensive and long since eroded away. North of Nunney are the remains of one of the six iron works owned by the Fussell family.