The elongate ridge from Crook Peak to Axbridge Hill is formed of Carboniferous Limestone, which forms the southerly dipping limb of the Blackdown pericline. The northern side of the ridge forms a scarp of Black Rock Limestone, overlooking the Lox Yeo valley, which is infilled with Dolomitic Conglomerate overlying the Portishead Formation.
The southern side of the ridge is indented by several small valleys, many of which follow the lines of earlier Triassic valleys. Modern erosion has preferentially removed the softer Triassic rocks, in effect recreating the Triassic landscape.
The Black Rock Limestone is well exposed in a small quarry on the northern side of Crook Peak, in the railway cutting at Shute Shelve and in the many small cliffs on the northern side of the ridge. The overlying Burrington Oolite can be seen in the crags at the top of Crook Peak and in the small disused quarries at the foot of the ridge south of Compton Bishop. The Clifton Down Limestone outcrops in the disused quarry at Cross and in the road cutting at the western end of the Axbridge bypass.

Flora and fauna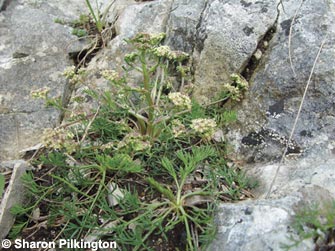 The area includes a very wide range of different habitats including extensive areas of limestone grassland on Crook Peak and Wavering Down, ancient woodland habitats in Kings Wood, and more typical woodland habitats in Rose Wood and Cheddar Wood. The south-facing slopes of Axbridge Hill and Wavering Down are superb wildlife habitats. The rocky bluffs, limestone screes and thin soils support an exceptionally rich flora including a number of rarities such as honewort, somerset hair-grass, Cheddar pink and several rare lichens. The combination of rich vegetation and warm, south-facing aspect is also highly attractive to butterflies. In some areas acidic loessic soils occur, which supports dwarf shrub heath with bracken, gorse and heather and bell heather.
Ochre mining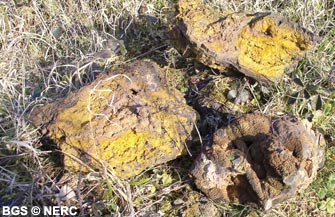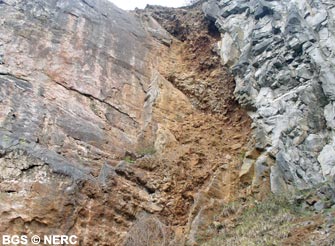 The hillside above Axbridge is dotted with numerous ochre pits, which were worked as late as the 1920s. When the mines were active, a tramway and cableway were constructed from Axbridge railway station up the hill to several ochre pits which are still accessible. The ochre infills pockets in the Carboniferous Limestone. Fragments of yellow and red ochre, which consists of various iron oxide minerals including limonite, goethite and hematite can be found scattered around the area.
One of the many small pits hidden within Rose Wood is the entrance to Shute Shelve Cavern. Discovered in 1994 by local cavers, the small entrance opens up into a large passage up to 20 m wide. Part of the cave had been entered by the miners and it could be the 'Lost Cave of Axbridge' rumoured to exist on the hill.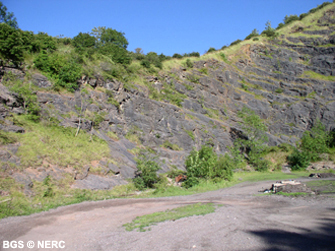 Quarrying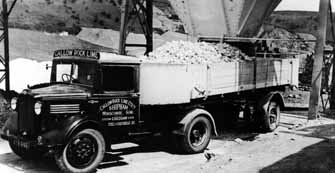 The summit of Callow Hill is dominated by Callow Rock Quarry. This quarry works the Burrington Oolite which is used in the adjacent concrete block-works, and supplies mainly a local market. Several other old quarries occur in Shipham Gorge, but are now disused.