Introduction | Cheddar catchment | Wookey catchment | Burrington area | Eastern Mendip | Western Mendip
Eastern Mendip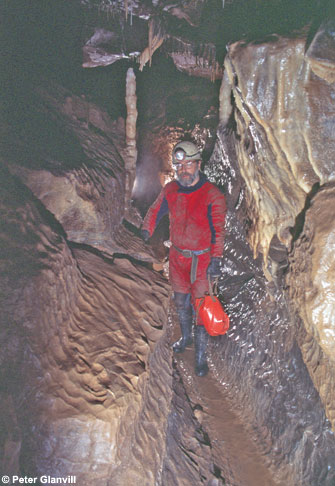 There are few large caves on eastern Mendip. However, several well decorated cave systems converge on St Dunstan's Well, near Stoke St Michael. In Fairy Cave Quarry, quarrying intersected several caves including two very well decorated passages, the Shatter and Hillwithy caves that form part of the 4.5 km long Fairy Cave system. These are fed by stream sinks along the northern flank of Beacon Hill including Withybrook Slocker. Another feeder to St Dunstan's Well is Stoke Lane Slocker, a stream cave 2.18 km long with some well decorated chambers, one of which was found to contain archaeological material.
To the west, another series of stream sinks around Binegar probably drain to Gurney Slade Rising. On the south side of Beacon Hill, several stream sinks, including Windsor Hill Swallet, drain to St Andrews Risings in Wells. One of these, Thrupe Lane Swallet, has been explored to a depth of over 120 m, and contains the single largest vertical shaft on Mendip, the 60 m deep Atlas Pot.
At Downhead, a series of stream sinks including Downhead Slocker, Heale Slocker and Dairy House Slocker drain to Seven Springs and possibly Holwell Risings, but the flow has been much affected by the Torr Works quarry. A few small caves occur here. Quarrying at Whatley has also affected the flow at the Mells River Sink which intercepts the underground flow converging on the Hapsford Risings. The Mells River Sink once acted as a spring in wet weather, but now only acts as a stream sink.