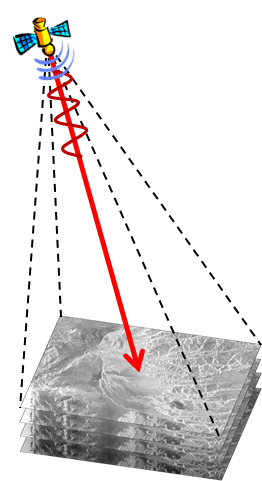 Interferometric synthetic aperture radar (InSAR) is a satellite remote sensing technique that allows ground motion of large areas to be measured with millimetre accuracy. It is an ideal ground motion monitoring technology because archive radar data (acquired by satellites since 1992) are available and can be used to analyse previous motions to establish a baseline prior to shale gas operations.
InSAR has the potential to measure millimetre-scale changes in movement (up or down) over timescales of days to years using data from a range of European Space Agency (ESA) and commercial satellites, along with data from ESA's new Sentinel-1A satellite. It is also used for monitoring of natural hazards, for example earthquakes, volcanoes and landslides. Data from Sentinel-1A were recently used to map the deformation caused by the earthquake in Nepal.
InSAR studies are a unique way to provide a regional picture in comparison to the point coverage derived from traditional techniques such as Global Navigation Satellite System (GNSS) stations. BGS will complete a ground motion study using available archive radar data to establish baseline conditions.
Contact
Contact BGS enquiries for further information.