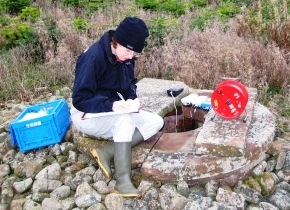 The BGS can provide a wide range of groundwater-related data, information and technical services.
Data and information
The BGS is the national repository for groundwater data and information and in addition have extensive holdings of international groundwater data and information. We are working to make this available via this website:
The BGS runs a hydrogeological enquiries service that provides data and information related to among other things, borehole prognoses, and groundwater flooding susceptibility.
The BGS has a long track record in providing UK and international partners — including government departments, industry and academia — with environmental data management and web delivery services.
Technical services
We provide a comprehensive suite of hydrogeological field services including: borehole drilling, core logging, downhole geophysical logging, borehole testing, and tracer tests.
Groundwater survey and sampling, including: water sampling, in-situ gas sampling, groundwater ecology sampling, sampling for aquifer properties analysis (matrix and fracture characterisation).
Laboratory services include: groundwater chemistry laboratory, environmental tracers and dating laboratories, aquifer physical properties laboratories and groundwater ecology laboratory.
Groundwater modelling: distributed groundwater modelling (ZOOM suite), pumping test analysis tools, lumped parameter models, time series analysis tools.
Groundwater consultancy and project management: BGS staff undertake groundwater-related consultancy for a wide range of customers and have a strong track record in the management of environmental research programmes.
Contact
Contact Enquiries for further information