The BGS collect groundwater level data in many of our research projects, and we host the National Groundwater Level Archive, the national repository for groundwater level data.
We are currently working to make groundwater level data available via this website. You can view information on a limited number of sites.
Click on a marker on the map below to view the data summary and hydrograph or view the list of sites with groundwater level data.
Sites with groundwater level data
Why monitor groundwater levels?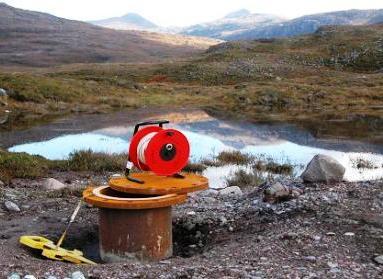 Groundwater level, as measured in an observation borehole, reflects the amount of water in storage in the monitored aquifer. When recharge exceeds natural discharge plus abstraction, groundwater levels rise.
When recharge is less than natural discharge plus abstraction, groundwater levels fall.
Comparisons of measured groundwater levels with long-term averages provide an indication of the state of groundwater resources within an aquifer. Observation over several years allows the prediction of aquifer response to current climatic and hydrological conditions.
The data from the archive are used to prepare archive products such as the monthly hydrological summaries, annual summaries and the statistics volume. The data are used for quantitative analyses, for instance of annual recharge, and provide a valuable source of data for the calibration of groundwater models.
How are groundwater levels measured?
Groundwater levels are measured manually using a dipper or automatically by a pressure transducer. Automatic readings may be stored in a datalogger that is visited periodically and downloaded by field staff, or sent automatically over the phone network to a database in a data centre (telemetry). However, errors in groundwater level measurement can occur.
Acknowledgements
At a national level, groundwater level monitoring data is collected and managed by the Environment Agency (England), the Scottish Environmental Protection Agency, Natural Resources Wales and the Department of the Environment (Northern Ireland). Access to the data they collect (which includes many monitoring sites beyond those highlighted on these pages) and curate is online in England (DEFRA) and Scotland (SEPA).
Contact
Contact Contact enquiries for further information