Long-lasting, often regionally extensive, groundwater flooding can be caused by the water table in an unconfined aquifer rising above the land surface as a response to extreme rainfall.
This is often referred to as clearwater flooding. It is this form of flooding that has caused significant damage to properties on the Chalk outcrop of southern England in recent years.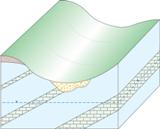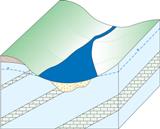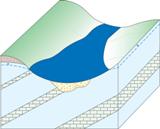 When does clearwater flooding occur?
Flooding occurs when antecedent conditions of high groundwater levels and high unsaturated zone moisture content combine with intense rainfall.
In the Chalk this can cause groundwater levels to fluctuate over several tens of metres. For example, in the winter of 2000–01 groundwater flooding was associated with unusually high levels of rainfall: for an eight-month period starting in September 2000, rainfall in south-east England was 183 per cent of the long-term average, equivalent to a greater than 100 year return period.
Groundwater levels were already high as there had been several years' above average recharge. Significant flows occurred in dry valleys in localities remote from floodplains.
River flow reflected the high rainfall as well as the contribution from groundwater discharge. Flows at most river gauging stations greatly exceeded the long-term averages for extended periods. In some catchments sustained groundwater flooding occurred for several months.
What recent and current BGS research addresses this issue?
The following BGS research projects address the issue of groundwater flooding in an unconfined major aquifer setting:
Contact
Contact David Macdonald for further information