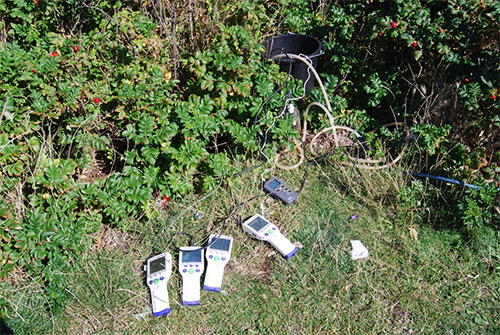 BGS, along with partners from the Universities of Manchester, York, Birmingham, Bristol, Royal Holloway (RHUL) and PHE has been carrying out a science–based environmental monitoring programme in Fylde, an area of Lancashire where in 2018 and 2019 hydraulic fracturing for shale–gas exploration was undertaken by Cuadrilla at its Preston New Road (PNR) site.
The BGS–led environmental monitoring programme is independent of both the industry and regulators.
The investigation builds on existing national monitoring programmes for groundwater and seismicity. Monitoring and investigation involves:
The study represents the first independent, integrated monitoring programme to characterise the environmental baseline in an area subjected to close scrutiny in the development of a nascent UK shale–gas industry.
The need for an effective baseline and independent monitoring
Over the period from February 2015, our baseline environmental monitoring programme has continued in order for us to acquire a robust set of water, air, soil and ground baseline measurements. This is providing a vastly improved knowledge base for an area recognised as prospective for shale gas but also of significant public concern.
Should any future gas exploration/development take place in Lancashire or elsewhere in the UK, the data acquired are providing us with a strong evidence base against which to assess any future changes in environmental conditions.
Such baseline characterisation was not undertaken during the early stages of unconventional oil and gas development in parts of North America, where recent scientific study has highlighted that problems with lack of regulation and borehole integrity have led to environmental pollution. The monitoring in Fylde will be of value in providing environmental baseline data and its temporal variation, regardless of whether or not any future shale–gas exploration takes place.
The monitoring we are undertaking is independent of industry and the regulators to ensure that scientifically robust outputs are evidence–based and impartial.
Information collected from the monitoring programme is being made available to the public through the
BGS website
and will also support peer-reviewed science.
Contact
Contact BGS enquiries for further information.