The BGS is working together with the Environment Agency (EA) to investigate whether any evidence exists for effects of abandoned hydrocarbon (HC) wells on groundwater quality in England. Over the period to December 2017, we will be evaluating groundwater quality in shallow aquifers above selected sites where abandoned hydrocarbon wells are known to exist.
Background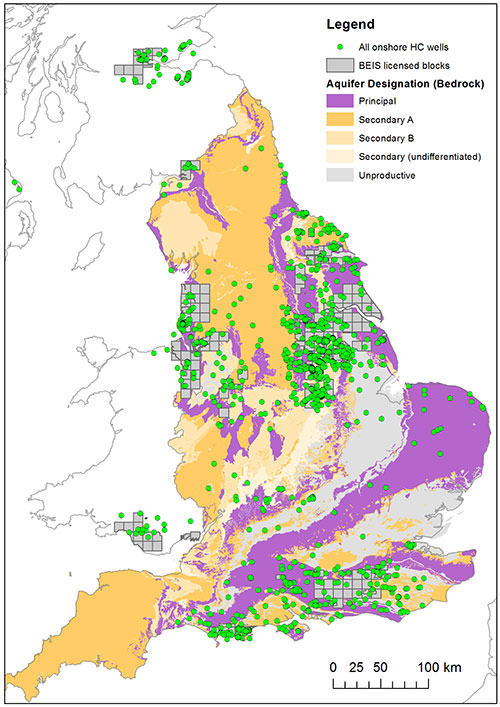 In the UK, around 2000 hydrocarbon wells are recorded on Department for Business, Energy & Industrial Strategy (BEIS) databases, including conventional oil and gas, mine gas and coal-bed methane wells. Of these, some 1500 are no longer active. The distribution of abandoned wells in England has been evaluated in relation to existence of overlying usable aquifers as designated by the EA, in order to assess the potential for vulnerability to contamination from deep hydrocarbon sources.
Current and planned activities
We are evaluating existing spatial and temporal data for groundwater quality (organic and inorganic chemistry) from the EA databases in areas with recorded, abandoned hydrocarbon wells. We have also selected four sites so far for further sampling and more detailed investigation. The selected hydrocarbon wells are from a combination of conventional oil and gas fields and are overlain by varied aquifer types (Cretaceous chalk, Jurassic limestone, Carboniferous sandstone and Cretaceous sandstone). Over the next few months, we will be carrying out further sampling and analysis in the selected study areas. We will also conduct methane soil-gas surveys above selected abandoned sites.
Contact
Please contact Enquiries for more information or contact the Environment Agency National Customer Contact Centre (NCCC).