Events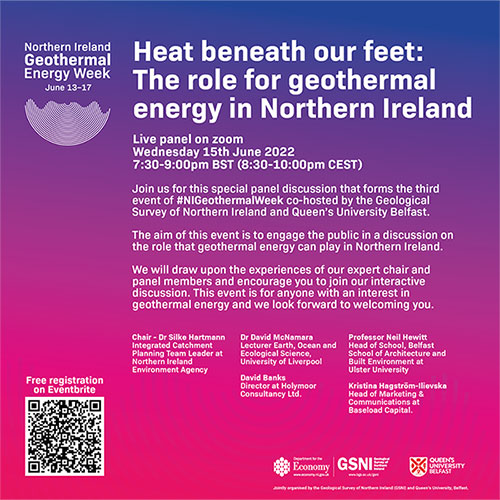 Heat beneath out feet: the role for geothermal energy in Northern Ireland.
Live panel event on zoom
Wednesday 15th June 2022
7:30-9:00 BST (8:30-10:00 CEST)
Join us for this special panel discussion that forms the third event of #NIGeothermalWeek co-hosted by the Geological Survey of Northern Ireland and Queen's University Belfast.
The aim of this event is to engage the public in a discussion on the role that geothermal energy can play in Northern Ireland.
We will draw upon the experiences of our expert chair and panel members and encourage you to join our interactive discussion. This event is for anyone with an interest in geothermal energy and we look forward to welcoming you.
Chaired by
Dr Silke Hartmann, Head of Integrated Catchment Planning Team at Northern Ireland Environment Agency
Panellists include:
Dr David McNamara, Lecturer Earth, Ocean and Ecological Science, University of Liverpool
David Banks, Director at Holymoor Consultancy Ltd.
Professor Neil Hewitt,, Head of School, Belfast School of Architecture and Built Environment at Ulster University
Kristina Hagström-Ilievska, Head of Marketing & Communications at Baseload Capital.